Daner: Guy de Maupassant
Ji zimanê Fransî: Ibrahîm Xelîl
"Guy de Maupassant ( 1850 – 1893 ) pêşewayê kurteçîrokê, ne tenê li Fransayê lê li seraserî cîhanê ye.Wî  42 sal kir û  6 roman û 300  çîrok nivîsîne.
Di dawîtirîn rapirsîna giştî de ku weşanxaneyên Fransayê pêk anî, Maupassant bi 3,790,000 rûnivîsên firotî di navbera 2004 – 2012an de pileya yekem wergirt .
Çîrokên Maupassant – ku wek romanin piçûk in -belgeyên civaka fransizî ne di dema xwe de, ew pesn û rewişt û reftar û bûyerên çerxa 19em li ber çavan radixe û vedide, û bi pênûsa xwe, ya ku wek derzîya dirûtinê ye, ta bi ta vedike û tevna rojeva mirovan tekûz dike.
Ev çîrok: Efserekî fransiz, ku pirr ji xwe razî ye, dil digire, lê cenga ku di navbera Fransayê û Prusyayê de diqewime wî ji yarika wî Irma cuda dike. Yê efser şerê dijminê welatê xwe bi mêranî dike û "xaç" a rûmetê werdigire, lê di wê navê re, çi hate serê yarika wî ya ku bajarê wê kete di bin destê Prusan de.Wê jî şer kir, wê jî dijminên welatê xwe bi kuştin dan lê bi awayekî din.
—————————————————————–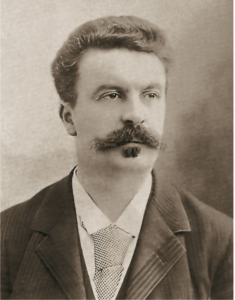 Hema ku kapîtan "Épivent" li devê rê xuya dibû, hemû jin li şopa xwe vedigerîyan. Bi rastî, ew nimûneya efserê spehî bû, her dem nimayiş dikir û xwe paye dikir bê hedan. Ewî pirr guh dida simbêl û bejn û bala xwe ku bi rastî dilkêş û xweşik bûn. Simbêlê wî yê kej û rep lêvên wî dinixumandin wek kumekî ku tu ji rengê genimê gihayî û terr tu çêkî. Ew simbêl bi nazikî badayî bûn û bi qiraxa devê wî ve diherikîn weke du xalên mûyê hûr, û dîmena mirovekî giyanbaz bi ser sikûmê xwedîyê xwe ve berdida.
Bejna kapîtan Épivent zirav bû te digo her dem kemer li newqê ye, sîng xurt û pehn û kunbedî, û çîm seyrkêş bû wek çîmê werzişvanekî yan semakerekî ku masulkeyên wî hemû livên di bin pantalonê sorî teng de şêwe bike.
Ku dimeşîya, lingên xwe bi teql radida bi destan re wek meşa hespebazan ku bi wî awayî nirxê newq û çîman diyar dikir. Wek mirovekî serkeftî di cilên yeker (uniform) ên xwe de bû, lê bi rastî tenê rodingot lê ne dihatin.
Wek pirranîya efseran, kapîtan Épivent nizanîbû kincên sivîl li xwe ke. Dema ku wî kincin bor an reş li xwe dikirin dibû wek zarokekî li ber devê dikanekê. Lê ku uniform li xwe dikir, şûr simbêlê wî ne dibirrî.
Serî xweşik, poz zirav û xûz, çav şîn û enî teng bû, lê mixabin, keçel bû. Wî qet fêm nedikir çima porê wî weşîya lê carcaran bêhna wî bi simbêlan fereh dibû hember qoqa wî ya kirêt û bê mû.
Ew ji tu kesî ne xweş bû, tevayhîya xelkê pîs dikir, û kesên bûrjiwaz li cem ne tiştek bûn, digot ev ajel in, û wî guh dida çûkekî yan mirîşkekê bêhtir ku guh dida wan. Tenê efser diketin di çavên wî de, lê hemû li cem ne wek hev bûn, wî qedrê yên spehî bêtir digirt ji ber ku qedrê yê efser di sawa wî de ye. Yê serbaz li cem wî mîna mirovekî mêr wek şeytan e, xwedê ew afirandîye ta ku ew ceng û evînê biafirîne, mirovekî tund û mêr û bi saw û ne tiştekî din.
Wî li generalên artêşa fransizî dinerî li gor dirêjbûn û sikûm û madê wan yê tirş. Wî li "Bourbaki" wek nimûne dinerî ku yek ji gewretirîn cengawerên çerxên nûjen be, û pirrcaran tinazîyên xwe bi wan efserên rêzgelê, ewên kin ku bi meşê re bêhnçikandî dibin, dikir, lê riswakirina wî bêhtir bû dijî wan belengazên lawaz ku derçûyên dibistana polîteknîk bûn, wî her dem digot ku ew zilamên kinî zirav î bi guzlik û bêhiş nabe ku uniformê li xwe bikin wek çawa nabe ku keroşk heman rêûresiman li dar xin.
Kapîtan Épivent pirr aciz bû ku seqetên wisa bi çîmên xwe yên zirav di artêşê de bin, ku wek kevcalan dimeşin û venaxwin û hindikî dixwin û têkilîya hevkêşeyên bîrkarîyê di ser ya qîzên xweşik re digirin.
Serkevtinên Épivent li meydana jinan baş hebûn, û çi cara ku wî li gel jinekê vedixwar ew bê guman wê şevê hevalê wê yê nav livînan bû, û heger wê şevê bidest neketiba ew piştrast bû ku sibe roja serkevtina wî ye.
Dostên wî ku li gel yarikên xwe bana hez nedikirin ku çavên wan li Épivent keve, û bazirganên ku ji mêryarin wan î qîz û xweşik hebûn ew xweş nas dikirin ji lew re jê ditirsîyan û ji ber dîtina wî diqurmiçîn.
Dema ku ew dibuhurî, ya firoşer di ber camê re awir li gel vediguhast, awireke ji hinguv şîrîntir ku hem daxwaz û hem bersivdan di nav re derbas dibûn, hem arezû û hem jî soz.
Mêrê wê, ku bi remekî, pê hest dibû, dizîvirî û awireke tund diavête xeyalê vî efserê belî paye. Hema ku Épivent – devliken û jixwerazî – derdiket, yê bazirgan kulma xwe bi acizî li maseyê dida û diqîrîya:
-Dîkê mezin! Gelo kengî em dê xwarinê ji devê van pûçên ku teneke li ser mila ye qut bikin?! Yê goştfiroş li cem min ji yê serbaz çêtir e, hema bi kêmanî ew xwîna li ser maseya wî xwîna ajelan e, û ew mirovekî bi sûd e, û kêra wî ne ji bo kuştina mirovan e, lê ez fêm nakim ew çima dihêlin ku ev gelkujên ha xwe bi amêrên kuştinê li pêş me nimayiş bikin, belê, dibe ku gerek be lê bila hinekî kêm bikin, û nehêlin van rûpoşkan li gel pantalonên sor û qutikên şîn li xwekin, ma mirov kincê serbirran li bejna xwe dike, hewarê…ma ne wisa ye?
Jinika firoşer milên xwe bi hêminî dihejîne û tu bersivê nade, êdî mêr gûrtir dibe:
-Mirov ne ajel be naçe temaşeya vê nimayişa dîkan nake.
Nav û dengê kapîtan Épivent li tevahîya parçeyên artêşa fransî belav bûbû.
Sala 1868, betalyona wî (Husar 102) hate şandin bo qişleyekê li "Rouen". Nav û dengê kapîtan dabû pêşiya wî. Ew her êvar dora seet pênc, diçû seyrangeha "Boieldieu" ku "absent"ê li çayxaneya "Comédie" vexwe. Lê her berî ku derbas be, wî gerrek li seyrangehê dikir û simbêl û bejn û bala xwe dîs nimayiş dikir.
Bazirganên "Rouen" ku li seyrangehê bûn, dest li paş kimaxan, bi guftûgoyên kar ve daketibûn, behsa vebûn û karûbarê sûkê dikirin, hema çav lê diketin, wan di ber xwe de dikir pistepist:
-Hey wax, çi zilamê spehî!
Û ku wan ew nas dikir, di cih de digotin:
-Wey wey, ev e kapîtan Épivent, çi mêrê mêrxas e lo.
Jin jî ku çav lê diketin fedîyê dida ser wan, bi xwe hest dibûn wek ku lawaz û tazî ne li pêş wî. Wan serên xwe berra ber xwe didan li gel xendeyekê, bi dilê wan bû ku bikevin di çav Épivent de û awirekê jê vedizin.
Dema ku Épivent bi hevalekî xwe re ba -û wisa çêdibû- wî hevalî bi çavnebarî di ber xwe de digot:
-Li min û vî Épiventî yaw, ma ev qas bextewer e!
Yarikên bajêr ketin pêşbirkê ka wê kî Épivent bi dest xwe bixe, ji lew re ew hemû bi hev re seet pênc dihatin seyrangeha Boieldieu, cotecot kirasên xwe nimayiş dikirin, û efser û serkirde li ser rêrexa hember wan jî cot bi cot şûrên xwe nimayiş dikirin berî ku derbasî çayxaneyê bibin.
Êvarekê, li pêş dergeha "Comêdie", hentorê "Irma" ya spehî ku yarika bazirganê gewre "Templier Papon" bû rawestîya.
Irma peya bû, û berê xwe da "Paulard" ê nexşevan, ka ji bo kirrîna hin kaxetan an tembîya hin kartan bû. Irma di ber maseyên efseran re bihurî û awirek berda kapîtan Épivent ku bi sed zimanî digot "Hema tu bixwazî". Ew awir hingî dîyar û vedayî bû, sertîp "Prune" ku li gel serhengên xwe meya kesk vedixwar nema xwe girt û got:
-Ev bêbav çi bextewer e.
Û hingî ew gotin dûbare kir, deng çû kapîtan Épivent û ew pê beşişî.
A din î rojê, kapîtan Épivent, bi cilên xwe yên berkevtî, çend carekê di bin pencereya "Irma ya spehî" re bihurî, wê ew dît û di ber xwe de beşişî. Wê êvarê bi xwe, ew bû yarê wê. Wan xwe heşkere kirin û bi serfirazî evîna xwe dida xuyakirin.
Tevayhîya bajêr –ji pêvî birêz Templier Papon– ev çîroka evînê kir benîşt û bi şev û roj cût.
Kapîtan Épivent bi şanazîyê diçirisî û geş dibû û her demê wî li pêş dost û hevalan dûbare dikir:
-Irma ji min re got, îşev wisa digot, duh ser şîvê, ew ê…
Serê salekê, evîna wan li Rouen belav bû. Wek ku alayek ji dest dijmin derxistibe, wisa Épivent bi şanazîyê hest dibû, hêvîyên wî ji paşerojê û bidestxistina Xaçê bêtir bûn, çi ku çavên tevayhîya xelkê ji ser wî ranedibûn, û her ew pê dilgeş bû ku ew her dem di bîra wan de ye.
Wan salan, ceng vêket, batelyona kapîtan Épivent ya yekemîn bû ku hate şandin ser sengeran. Xatirxwazî di navbera wî û Irmayê pirr bi êş bû, şevekê sax dom kir. Şûr, pantalonê sor, kum, kursî li erdê, kiras û kutekiras û goreyên hevrêşim li tenişta uniformê li ser berrikê…tev belawela bûn. Ode tev de lihevketî bû wek ku marek lê hatibe kuştin. Irma, dîn û por vedayî, destên wê yê bêhêvî li dora stûyê Épivent, carcaran hembêz dike û berdide. Dimeşîya û bi kelupelên malê ve dilikumî, rûberê kursîyan radikir, û depên wan gez dikir. Épivent jî ketibû di hev de, pirr aciz bû û nema dizanîbû ka çi bibêje:
-Irma, delala dilê min Irma, ev nayê gotin lê ez bêçare me.
Û carcaran, wî tilîka xwe diavête hêsireke wê ji ser çavan dimalişt.
Bi hilata rojê re, her du evîndar ji hev cuda bûn. Irma bi tirimbêla xwe da dûv yarê xwe ta qonaxa yekem, û li pêş hemû endamên betalyonê, wê ew hembêz kir. Hevalan bi çavekî mezin li vê hezkirinê nerîn, û bi germayî milên Épivent hejandin:
-Ey qehreman, ya wê jî mêranî ye ha.
Di wan kêlîkan de, hestekî neteweyî da ser hemû dilan.
Di wê pêngavê de, betalyona Épivent êşeke zor di şer de kişand. Yê kapîtan bi mêranî şer kir ta ku Xaç wergirt. Û çawa şer bi dawî bû, ew vegerîya Rouen, û berî her tiştî wî pirsa Irma kir lê mixabin tu kesî tiştek jê nizanîbû, hinekan got ku Irma bûye yara efserekî di serkirdayetîya Prûsî de, û hinekan jî got ku ew vegerîyaye cem malbata xwe ya cotkar li gundewarên "Yvetot".
Yê kapîtan xwestekek şande ji muxtar re ku li mirinnameyê li navê Irma bigerin, lê wan tu tişt nedît. Êdî kuleke mezin ku nayê veşartin da dilê wî, wî gazin ji dijminan kir, digot ku ev belaya ku hate serê wî ji dûv wan bêbavên Prûsiyan e ku Rouen dagîrkirine:
-Xem nake, di cenga hatî de, ez vê ji wan re nahêlim.
Sibehekê, Épivent derbasî xwaringeha qişleyê dibû, nameberekî kal bi yelek û kumekî şayîk zerfek da dest. Wî zerf vekir û ev gotin xwendin:
"Xoşewîstê min, ez li xestexaneyê me, pirr nexweş im. Ma tu nayê min nabînî. Bi lez were û dilê min xweş bike… Irma"
Rûyê Épivent zer bû, dilê wî bi Irma şewitî û got:
-Keça belengaz, ez ê nîvro herim serdana wê.
Épivent li ser xwaringehê her tişt ji efseran re got:
"Bêguman, wan Prûsîyên pîs malê wê talan kir û wan ew tenê bê firingek li wê rastê hişt… Ax, Xwedê ji wan re nehêle.
Heval tev aciz bûn. Épivent destên xwe zuha kir û rahişte şûrê xwe, sînga xwe nepixand ku bejna wî zirav xuya be, qayîşa xwe girêda û bi lez berê xwe da xestexaneya bajêr. Derbasbûna xestexaneyê ne asan bû wek ku jê werê,  ew naçar bû ku kaxetekê ji sertîpê xwe bibe ta ku bihêlin ew derbas be.
Épivent hinekî bendewar ma berî ku yê rêveber destûra wî bide li gel silaveke sar û madekî tirş.
Li ber derî, Épivent bi acizîyekê hest bû ji vê dera perîşan û mirdar. Yê xizmetkar ode jê re destnîşan kir. Épivent tena tena dimeşîya ku tu deng jê neyê di wan bihurên dirêj û têr bi bêhna nexweşî û dermanan de. Piçûktirîn pistepist dikare hêminîya xestexaneyê bişikîne. Di ber hin derîyan re, Épivent çav li xewgehekê ket, rêzeke textan ku şêweya laşan di bin de dîyar dibû. Hin yên nîvrehet li ber qiraxa textên xwe rûniştibûn dirûtin dikirin, uniformê wan cilekî bor û kumekî spî bû.
Yê xizmetkar ji nişka ve rastî holeke tijî nexweş rawestîya. Li ser derî bi tîpin girs nivîsî bû "NEXWEŞÊN SÛSEKΔ. Épivent lerizî û li ber xwe ket. Ya peristar, ku li ber derwazeyê derman li ser maseyeke dep î piçûk amade dikir, jê re got:
-Ez ê rê şanî we bikim, ew li odeya 29an e.
Û wê da pêşîya yê efser, û tilîya xwe rastî odeyekê kir:
-Ev ew e.
Ji pêvî çarçevên nepixî, Épivent tiştek nedît, serî bi xwe di bin çarçevê de bû. Li hawîrdor, nexweş li ser textan, rûyin zerhimî û matmayî li uniforma wî dinerin, hin qîz û hin pîr lê hemû kirêt û rûşuştî di wan uniformên xwe yên fereh de.
Épivent lihevketî bû, destek li ser şûr û yê din bi kum ve, kire pistepist:
-Irma.
Çarçev hilat û rûyê Irma ji bin ve xuya bû, hey wax ew çi qas hatîye guhertin! Hingî ew lawaz û westîyayî bû, Épivent ew nasnekir. Irma bi helkehelk qîrîya:
-Albert… Albert… ev tu wî!… Ax… baş e, ev baş e.
Hêsir ji çavan barîyan. Ya peristar kursîyek anî:
-Fermo, cenabê kapîtan
Yê kapîtan rûnişt, çavên wî her li ser Irma bûn, ew gurcîya ku duh wek perîyekê bû îroj perîşan û zerhimî ye. Wî jê pirsî: Ka çi bi serê te hatîye? Wê di nav hêsiran re bersiv da û got:
-Te bi çavên xwe dît çi li ser derî nivîsî ye. Û bi pêçeka çarçevê rûyê xwe veşart. Yê kapîtan matmayî û liberxweketî got: Hewar… ka çawa te ev nexweşîya pîs vegirt delala min?
-Prusên gemar rûyê min bi zorê bir, wan ez jehrî kirim.
Gotin ji devê Épivent derneket, wî tenê kumê xwe li ser çoka xwe dizîvirand. Nexweşan lê dinerî, ew hest dibû ku bihneke ne xweş tê, wek bêhna goştê kufikî û bêhna hetîketîyê li vê dera tijî qîzên ku bi vê nexweşîya berfedî ketine. Irma bi dengeke hêdî got:
-Ez rehet nabim, doktor dibêje ku ev nexweşî pirr pîs e.
Ji nişka ve, çavên wê li Xaçê ket, beşişî û got:
-Oh, te ew wergirt, çi kêfxweş im, çi kêfxweş im, oh! Xwezî min karîba te maç kiriba.
Di cih de, madê Épivent tirş bû û ji tirsa çermê wî lerizî. Wî dixwest ku bi lez û dem berî demê ji vir derkeve ku bayekî paqij bikişîne û nema careke din rûyê vê jinê bibîne, lê ji neçarî ew rûniştî ma, nizanîbû çawa oxirê jê bixwaze, got:
-Doktor tu nedîtî ?
Çavên Irma pêteke sivik weşande û got:
-Na, min xwest berî mirinê heyfê hilînim, êdî min tev bi jehrî xistin, tev, çi kesê ku min xwe gihande wî. Û ta ku ez li Rouen bûm min xwe bi derman neda.
Yê kapîtan bi acizî û tinazîya tevlihev got:
-Ji vî alî, min bihîst ku te texsîr nekiriye.
Rûyê Irma sor bû û got:
-Belê, bêhtirî yekî bi gunehê min mir, min heyfa xwe hilanî.
Yê kapîtan dîs tinazî kir:
-Xwezî bi dilê te, êdî.
Û xwe amade kir ku rabe lê pêşî got:
-Heydê, ez dê anuha dev ji te biqerim çi ku gerek ez li cem yê sertîp bim seet çar.
Irma, helçûyî, qîrîya:
-Dîsa, tû yê dîsa min tenê bihêlî! Wax, tu nuh hatiyî.
Lê yê kapîtan, çawa ku bû, ne dixwest bimîne, got:
-Tu dibînî, ez di cih de hatim, lê ji dil, gerek ez yê sertîp seet çar bibînim, ez neçar im.
Irma pirsî:
-Sertîp Prune, ne wilo?
-Belê, ew bi xwe, ew du carî birîndar bûye.
Irma pirsî:
-Ma tu kes ji hevalên te hate kuştin?
-Belê, Saint-Timon, Savagnat, Poli, Sapreval, Robert de Courson, Pasafil, Santal, Caravan, Poivrin, tev mirin. Destê Sahel jê bû, û lingê Courvoisin şikest, û Paquet çavê wî yê rastê teqîya.
Irma xweş guhdarî dikir, û ji nişka ve got:
-Tu naxwazî maçî min bikî, ka bibêje, berî ku Langlois xanim vegere? kapîtan bêdilî xwe enîya wê ya zerhimî maç kir, û Irma ew bi germî hembêz kir û bi dînîtî maçî betena şîn ya taximê wî kir, paşî got:
-Tû yê vegerî, bibêje min ku tû yê vegerî, sozê bide min tû yê vegerî.
-Belê, sozê didim te.
-Kengî, tû yê karibî… pêncşemê?
-Belê, pêncşemê.
-Pêncşemê, seet du.
-Belê, pêncşemê, seet du.
-Sozê bide min.
-Sozê didim.
-Oxir be kezeba min.
-Oxir be.
Kapîtanê lihevketî, rabû û di nav pêlên awirên nexweşan re meşîya, wî bejna xwe hinekî tewandibû ku kintir xuya be. Û çawa xwe li derve dît, bêhnek ji kezeba dilê xwe kişande.
Êvarî, heval li dora wî vehewîyan û pirsa Irma jê kirin, wî bi kurtî û acizî bersiv da:
-Ew bi sermayê ketibû.
Lê sitvanekî xort jê bawer nekir û rahişte xwe û çû pirsgehê, û a din î rojê, çawa yê kapîtan derbasî xwaringeha efseran bû, bahoza ken û tinazîyê di rûyê wî de rabû. Dawî, hevalan heyf jê hilanî.
Wan zanî jî ku Irma bûbû jina serkirdeyekî Prûsî, û ku Irma li gel efserekî ji hussarên şîn û hin din jî wê, li ser pişta hespê, welat li hevxist, û ku navê Irma li Rouen bûbû "jina Prûsîyan".
Heyşt rojan ser hev, Épivent bû qeşmerê betalyonê. Û bi rêya berîdê, têbînî û raçête û destûrkarîyên bijîşkan û celebin dermanan jê re dihatin. Dema hayê yê sertîp jê çêbû, wî bi dengekî vebirr ragihand:
-Baş e, xuya ye pêwendîyin kapîtanê me bi wir re hene, ez dê silavên xwe jê re rêkim.
Piştî dora duwazde rojan, nameyeke nû gihaşte destê yê kapîtan, Irma doza serdanê lê dikir, wî bi acizî name çirrand û tu bersiv lê neda.
Piştî heyşt rojên din, Irma dîsa nameyeke nû jê re şand ku rewşa wê pirr xerab e û wê divîya ku xatirê dawî jê bixwaze lê wî tu bersiv dîsa neda.
Piştî çend rojan, rêberê xestexaneyê hate serdana wî û got ku jina ku bi navê "Irma Pavolin" li ber mirinê ye û ku ew bi hêvîya hatina wî ye.
Yê kapîtan ne diwêrî xwesteka yê rêber ret bike, êdî wî berî da xestexaneyê lê bi dilekî tijî kîn û bedxwazî û bi payebûneke birîndar û şahnazîyeke pîskirî.
Dema ew çav li Irma ket, dît ku ew ne hatiye guhertin, û guman kir ku ew wî dixapîne, rabû jê pirsî:
-Fermo, ka te çi ji min divê?
-Tenê min xwest xatir ji te bixwazim, xuya ye dawîya min hatîye.
Lê yê kapîtan jê bawer nekir…
-Guh bide min Irma, te ez kirim qeşmerê betalyonê, û ez nahêlim wisa berdewam be.
Irma jê pirsî:
-Ka gunehê min çi ye?
Hingî yê kapîtan har bûbû, wî nema dizanîbû ka çi bersivê bide.
-Bêhêvî be ku ez careke din vegerim vir û xwe bikim qeşmerê xelkê.
Bi çavên xwe yên vemirî ku çirîskên agir jê pejiqîn, Irma dûbare kir:
-Ka gunehê min çi ye? Ez ji te re ne qenc bûm? Min rojekê doza tiştekî li te kiriye? Ne ji te ba, ez dê anuha bi Tamplier Papon re bûma û ne li vî cihê han, va tu dibînî, kî gazinan ji min bike lê tu na.
Bi dengekî lerizî, yê kapîtan got:
-Ez ne gazinan ji te dikim, lê ez nema dikarim bême vê derê çi ku reftarê te bi Prûsîyan re cihê şermê ye li serê tevayîya bajêr.
Irma cihê xwe xweş kir û bi dengekî lerizî:
-Reftarê min li gel Prûsîyan? Ma ne min gote te ku wan bi zorê rûyê min bire, û min gote te ku min xwe pêş doktorekî nekir çi ku min xwest ez heyfê hilînim û wan jî bi wê êşê bixim, û ku min xwestiba rehet bim minê karîba. Lê min kuştina wan xwest, û min ew pêk anî.
Yê kapîtan, hîn şipya bû, got:
-Çawa be, ew şermawer e.
Bêhna Irma çikîya û got:
-Şermawera çi? Ku ez ji bo kuştina wan xwe bikujim, ka biaxive? Te ne wilo digot dema tu dihatî serdana min li cadeya "Jeanne d'Arc"? Ox! Şermawer! Lê çi bê serê min ji destê min e, va tu dibînî çawa ji te bêtir, min ji te bêtir Prûsî kuştine.
Yê kapîtan behitî û aciz li pêş Irma ma bû û ziman diherbilî:
-Ox! Bêdeng be, tu dizanî… çi ku… ev tiştên han… ez rê nadim… ku dest bigihê…
Lê Irma guh nedida gotinên wî.
-Bi vê we şerê Prûsîyan kir! Evê rastba heger we nehiştiba ew bigihêjin Rouen? De ka bibêje. Gerek we nehiştiba nêzîkî me bibin, dengê min tê te? Êşa ku wan ji min dît ji ya te tûjtir bû, belê, ez… çi ku ez ê anuha bimirim û karê te ku tu xwe li ber dilên keçikan şîrîn bikî û wan ji rê derxînî.
Li ser her textekî, du çav hebûn ji xwe re li vî zilamê bi uniformê, ku zimanê wî li hev diket, temaşa dikirin:
-Hiş be… tu dizanî ku… hiş be.
Lê Irma li şûna ku hiş bibe, qîrîya:
-Ox! Belê, tu dîkekî spehî yî û ez xweş te nas dikim, heydê … te nas dikim, dibêjime te ku min ji te bêtir ziyan gihandîye wan, ez, û min ji betalyona te bêhtir ji Prusan kuşt… De here, here… tirsonek.
Yê kapîtan nema bi ser rêya derketinê ve bû. Di navbera her du rêzên textan re nexweş diçûn û dihatin, û berî ku ew bazde ji derve, dengê Irma kete di qulla guhê wî de:
-Ji te bêtir, belê, min ji te bêtir ew kuştin, ji te bêtir…
Yê kapîtan çar çar bi derencê ve gindirî, û çawa ew gihaşte mala xwe ew nema jê derket.
A din î rojê, ew bi mirina Irma agahdar bû.
8 Tîrmehê 1884