Bahar Marûfî: Sînema ji bo min Evîn e
Hevpeyvîner: Idrîs Hiso
Bahar Marûfî, ji xelkê Rojhilatê Kurdistanê ye, ji bajarê Ormiyê ye, xwendina zanko, beşê Bîrkarî xelas kiriye, û ev çar sal in ku wek aktera sînema kar dike, û di nav vî karî de jî berdewam e.
Heta niha te beşdarî di çen fîlman de kiriye?
Heta niha min ez beşdarî çar fîlman bûme, du kurtefîlim, yek belgefîlim û fîlmekî dirêj. Fîlmê min ê dirêj navê wî "Dayan" e ji derhênertîya derhêner Behrûz Nûranpûr e, di festival Duhokê de beşdar bû, di pêşberikîya sînema Kurdî de, kurtefîlemek jî bi navê "Getting Back" ji derhênertîya Xidir Mihemed, kurtefîlmek jî bi navê "Helîma" ji derhênertîya Bayezîdî ye, û min beşdarî di belgefîmekî telvîzyonî jî de kiriye.
Tu dikarî behsa rola xwe, û peyama fîlmê Deyan bikî?
Sebaretî peyam û mijara fîlmê Deyan ez naxwazim behsa her tiştî bikim, bi min waye gerek e derhêner behsa vê yekê bike, lê ez dikarim bêjim ku "Dayan" behsa çîroka /4000/ jinên Sûrîyê dike ku bi şêweyekî ji şêweyan dibin qurbanîya êrîşa DAIŞê û ji malabat û mêrên xwe dûr dikevin, aware dibin û nema zanin bê wê çawa bighên malabtên xwe, ez jî yek ji wan jinan im di fîlim de; êş û azarên wan di fîlim de û li ser ekranê tînim pêşberî bînerean.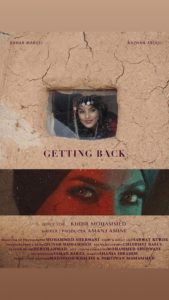 Tu wek jineka Kurd, bi taybet ku hîna jî gellek qeyd û bend li berdem jina Kurd ku bi taybet karê akterîyê di fîlmên sînemayê de bilîze hene, çi astengî ji te re hebûn?
Belê di civata Kurdî de hin zehmetî li berdem jinê hene, lê hemd ji Xweda re ku malbata min, piştevan û alîkarê min bû, ez hêvîdar im jî ku malbatên Kurd karibin rê bidin jinan ku bighên mafê xwe, her wisa divê jin jî rêya zanist û xwendinê bidin ber xwe da ku bighên armancên xwe û bibin nimûneyeka baş bo civata xwe, lewma divê malbat jî nebin rêgir û jin jî di berxwe de bidin.
Piştevanîya malbatan heta niha jî li Rojhilatê Kurdistanê kêm e, di dema ku ev jinên ku hene bibin nimûneyeka baş bo jinan, dê jinên ku wêrekî bi wan re çêbibe pirr bibin û malbat jî dê werin ser rê, lê heger ev jinên ku niha pêşeng in û karê sînemayê dikin bi şêweyekî xirab wêneya jinê bidin nîşandan, wê demê, wê malbat jî nealîkar bin û ew jinên ku niha jî hene wê ti guhertinek bi sûd çênekin.
Niha dema ku ez wek jineka Kurd dê li mihrîcana sînema biçim ser mehfûra sor, divê ez wî wêneyî şanî malbatên Kurd bidim da ku ew jî bibêjin bila keçên me jî wek Bahar biçin ser wê mehfûrê.
Te got: Min Bîrkarî xwendîye, dema ku te xwest di nav sînema de kar bike, te berê xwe da ti akadîmîyekê ku tu tê de fêrî hunera akterîyê bibe?
Yekem car dema ku ez bûm akter, min pêşberkî li gel 500 jinên din kir, lê ez di pêşbirkê de bi ser ketim, ji ber bi sedên fîlman min dîtîye û ji zaroktîya xwe ve min dixwest bibim derhêner, axirê ez nebûm derhêner lê ez bûme akter, ez bi hêvî me ku bibim derhêner jî. Li vê barê dixwazim bibêjim ku xwendina ekadîmî gellek baş e, lê ya baştir û girîngtir hez û vîna mirov e û herwiha rahênana berdewam e.
Tu heftemîn mihrîcana navdewletî ya Duhokê çawa dinirxînî?
Ez Mihrîcana Filman a Duhokê bi rêk û pêk û girîng dibînim, her wiha ew mihrîcabek serkeftî ye, divê em wê yekê zanibin ku şehnazîyeke li Kurdistanê mihrîcana filman bi berdewamîya heft salan bê rawestandin hebe, tevî şert û mercên ku welatê me tê re derbas dibe.
Tu rola mihrîcanan bo sînema û akterên Kurd çawa dibînî?
Rola mihrîcanan gellek baş e, heger ev mihrîcan wek a Duhok û Silêmanî her sal werin lidarxistin, hem ji bo Akter baş e, hem ji bo derhênere baş e, hem jî ji bo gelê Kurdsitanê baş e ku akter û derhênerên xwe binase, sînema ferhenga Kurdî dewlementir dike, mihrîcan jî derfet e ku gel hunermendên xwe yên ku ferhenga wî dewlementir dike bibîne. Ji alîyekî din ve jî mihrîcan dibin pira di navbera me û gelên din de em hemû têne cem hev û ji nêzîk ve hevûdin nas dikin û dibe cihek jî ji bo bidestxitina derfetên kar ji bo hunermendên kurd.
Tu sînema li Îran û Rojhilatê Kurdistanê çawa dibînî?
Li Îranê hunera sînema û şanoyê gavên baş ber bi pêş ve avêtine, dema Îranî fîlmekî çêdikin ji alîyê hejmarek mezin ên xelkê ve tê dîtin, herwiha hunermend û sînemakarên Îranî di nav civatê de têne nasîn, li Rojhilatê Kurdistanê jî huner heta radeyekê belav û cigar e lê ne wek ku li Îranê ye, derhênerên me yên binavûdeng wek Behmen Qubadî li seranserî Îranê tê nasîn lê pêwîstîya me bi berhemên zêdetir heye.
Awatî Bahar li siberojê çi ye, çavên te li ku derê ye?
Çavên min li wê yekê ye ku ez bibim akterek cîhanî, ne tenê ji bo nav, deng û şuhretê, lê belê ji bo ez wek keçeka Kurd bême nasîn bi berhemên baş, dema xelk ji huner û berhemên min hez bikin û şehnazîyê bi fîlmên ku ez tê de cih digrim bikin, ew mezintirîn şehnazî ye bo min.
Aya nasnameya fîlm dibe Kurdî di dema ku fîlim bi gellek zimanan be? An jî gerek e fîlim bi Kurdî be û jêrnivîsa wî bi zimanên din be?
Ez dibêjim ne gerek e tenê bi zimanê Kurdî be, tevî ku gellekî girîng e fîlm bi Kurdî were çêkirin, lê dibe ku em bi zimanên din jî fîlmên Kurdî çêkin, wek nimûne em dikarin akterekî farisî bînin nav filim wê demê em dê karibin bala bîner û sînemahezên Farisî jî ber bi fîlmên Kurdî ve bikşînin. Heman gotin ez dikarim li barê Tirkan û Ereban û Ermenan jî bibêjim.
Çawa rexne li karê te di nav sînemayê de tê kirin?
Heta niha gellek caran ez ji gellek hunermend, derhêner, akteran û bîneran dibhîzim ku karê min gellekî baş e û serkeftî ye, lê bi şêweyekî nivîskî bidaxewa karê min nehatîye rexnekirin, û di vî alî de jî ez lawazîyekî di nav sînema Kurdî de dibînim, pêwîst e alîyê rexnê jî pêş bikeve da ku akter û derhêner xalên lawaz di karên xwe de nas bikin û berhemên dahatû baştir encam bidin.
Li heftemîn Mihrîcana Filman a Duhok, helbet te derhênerên Kurd ji seranserî Kurdistanê û ji Ewropa jî dîtin, vê yekê derfetên kar bo te peyda kirin?
Belê, helbet, spas ji Xweda re ku min derhênerên Kurd, ji Bakur, Rojava û Başûr dîtin û behsa pirojeyên xwe ji min re kirin, heta niha jî min derfeta kar di du fîlman de dîtine, wê di siberojê de bêne dîtin û bêhtir wê hurgilîyên van pirojeyên nû dîyar bibin.
Bi te wek jineka Kurd, heger derhênerekî ji te re got di fîlmê min de çend dîmenên evînî hene, tu wek akter dikare bi rola wê kesayetê rabî?
Belê helbet, ev karê akter e, pirs ew e ka mijara fîlm çi ye, nameya fîlm çi ye, heger fîlm bi mijara xwe û nameya xwe hêja bin û li gorî daxwaz û pirensîpên min bin, helbet dîmenên evînî jî beşek e ji karê akterê sînema.
Tevî ku ez dixwazim bibêjim ku vê yekê di nav civata me de cih negirtîye jî, lê wek min got divê ew jî hebe û herdem ev tişt girêdayî name û armancên fîlm in.
Tiştekî din ez dixwazim li bara vê mijarê bibêjim, divê fîlmên me evînî, xweşî û şadîyê şanî bîneran bidin, ne tenê xem û kulan nîşan bidin, çinku fîlmên ku bi tenê xem û kulan nîşan bide, dê zor ji alîyê bîneran neyê dîtin û dê berê xwe bidin fîlmên din û tiştê xweşî û kêfê û wizeyê dide wan.
Sînema bo Bahar çi ye?
Sînema bo min Evîn e, ez evîna xwe di sînema de dibînim, dema ku ez diçim berdem kamîra û derhêner dibêje Akşin, ez hest bi evînîyê dikim, bi işq û evînî ez sînema dijîm.
Tu ji bo jinên Rojavayê Kurdistanê ku heza wan ji karê Sînema re heye çi dibêjî?
Ez ji bo jinan berdewam dibêjim, ti carî bê omîd nebin, ji xwe ji bo xwestekên we heger rê zehmet be jî lê bi berdewamîya kar û têkoşînê mirov dê bighê armancên xwe.